FUMIO YASUDA BIOGRAPHY
|
BIOGRAPHY-Short Version
Fumio Yasuda A Comporser and Pianist.
Fumio yasuda was born in Tokyo,Japan.
Having begun to learn classical piano in early childhood, Fumio Yasuda studied composition at The Kunitachi College of Music, soon finds hisinterest in improvisation music and performs together with well known improvisers in Japan.From 1995, he begins his musical collaboration with Japan's most famous photographer,Nobuyoshi Araki.
Yasuda's compositions for Araki's projects in collaboration with sounds and images, series of Arakinema films works are performed and created artistic sensations in various parts in the world such as Vienna, Hamburg, Taioei ,and New York.
- 2000 "Kakyoku", CD released by Winter & Winter
This work is praised highly for Yasuda's multi-fields talents.
Andreas Obst wrote about Fumio Yasuda's album "Kakyoku" in the Frankfurter Allgemeine Zeitung of December 8, 2000: even Yasuda can't describe with words that which he offers to our ears.
He concisely explains that his motivation is to invent new things, and that he does not feel at home doing this in the world of classical nor in the world of pop music.
When one has entered Yasuda's sound world - and this is by no means a question of choice: as soon you have had one taste of the CD, you will want to hear it over and over again - one can easily understand why he mentions the compositions of Franz Schmidt (the Austrian Late Romantic) and John Cage's experimentation at the
boundaries of sound as decisive influences.
Yet contributions by several other spirits can be detected -broad orchestral sounds by Mahler, a dose of Part's melancholy, minimal music waves, echoes of Debussy's almost oriental piano sounds and even Schubertian melodic delicacies, thanks to the participation of cellist Ernst Reijseger. But every time, Yasuda stands out boldly.
As he explains, he is Japanese, and therefore permeable to a wide range of influences. Still, this isn't the main distinctive feature of this strange and wonderful recording.Its magic is rather that of making out of things known its own, of reproducing a model until, through the work of tiny mutations, something new has come into being (end of quotation).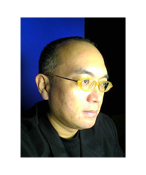 - 2001 "Im Zauber von Verdi (Charmed with Verdi)", CD released by Winter & Winter
'With great sentiment and airy elegance, Yasuda invents fantasies of melodies from Aida, Regoletto and Otello, interweaving Wagner harmonies.'-"Hamburger Abendblatt", 'Music that angels listen to'- "Kieler Nachrichten"
- 2002 "Schumann's Bar Music", CD released by Winter & Winter
- 2002 "Kakyoku, Death Sentiment", first performed with Stuttgarter Kammerorchester Piano solo concerts in Germany and France followed
- 2004 Opera "Der Kastanienball", first performed in the world at Munich Opera Festival 2004
"Der Kastanienball", the Improvised Cabaret Opera with the conception by Stefan Winter gave audience a lot to talk about at the festival.
Yasuda worked as the composer and music adaptor then participated in the performance as a pianist.
- 2004 "Heavenly Blue", CD released by Winter & Winter
Includes "Accordion Concerto" featured Teodoro Anzellotti as a soloist, "Imaginary Films for Piano and String orchestra" castrating Kammerorchester Basel and Yasuda (piano), and others.
- Apr.2005 Imaginary Films for Piano and String orchestra,
Accordion Concerto, 5 Orchesterstucke, first performed at Stanser Musiktage 2005
(Acc.Teodoro Anzellotti,Kammerorchester Basel and Fumio Yasuda.)
- July 2005 Piano solo concert at Schleswig-Holstein Musikfestival .
- 2006 "Las Vegas Rhapsody" CD released by Winter & Winter
Theo Bleckmann [vocals], Fumio Yasuda [orchestration, piano]
Kammerorchester Basel (Las Vegas Rhapsody prologue / Composed by Fumio Yasuda)
- 2007 "Berlin - Songs of love and war, peace and exile" CD released by Winter & Winter
Theo Bleckmann [vocals], Fumio Yasuda [piano, arrangements]
Todd Reynolds string Quartet
- 2010 "Schumann's Favored Bar Songs"CD released by Winter & Winter
Theo Bleckmann [vocals], Fumio Yasuda [piano, arrangements]
- 2012 Installation art "on the path of death and life" was firstly performed at New York in the world.
With Nobuyoshi Araki (Images), akimuse (Voice Vocal)
- 2013 ≫Mother Goose≪ CD released by Winter & Winter
Fumio Yasuda [piano, arrangements] ,Theo Bleckmann [vocals] , Jo Lawry [vocals]
Caleb Burhans [guitar] , John Hollenbeck [drums, percussion] , Drew Gress [bass]
Rubin Kodheli [cello] , Bohdan Hilash [clarinet]
-Works for Films-
- 2007 "Help Me Eros" Director: Lee Kang-Sheng
In Competition, Venice Film Festival Official Selection, Toronto, Pusan, Vancouver
AWARDS: Grand Prize for Best Film, Gijon Film Festival
Special Jury Prize, Bangkok World Film Festival
- 2007 "Cherries" Director: Zhang Jia Bei
Tokyo International Film Festival
-2011"A Sky Too Far to See" Director: Norio Enomoto
Warsaw Film Festival
'Yasuda is active in performance as 'the most tasteful pianist of the days'
(Kieler Nachrichten), and also he develops his unique music as an international composer.
As Nobuyoshi Araki comments, "Yasuda's music is sometimes sentimental and sometimes almost insane.
It has a way of getting under one's skin and touching both body and soul."